Categories:
Other Brands
We like to talk about simple but worth-every-dime shopping bags. Last time it was the Kenzo Logo Print Tote, of which we think it was stunning and it was well-balanced between the price and value. And today we'd like to show the Stella McCartney Logo Bag – another beautiful choice.
The Design
Why this Logo Bag? Well it's stunning and slightly distinctive. This new tote features the house's logo on the front in perforated style. But the overall appearance is simple and easy, which makes it the perfect candidate to become your daily shopping bag.
Take a big glance at the structure of the handles. It looks like it's been cut-out from the side, but the handles are big and strong – they're ideal for carrying heavy weight essentials.
The spacious interior is what finalizes the design. But before we go into that, you have to know that the bag is made from polyurethane, which is not real leather. But it feels and looks like a genuine leather.
The Interior
The bag is open from the top. Inside you will find one big compartment to store everything necessary. There is even enough space to store your clothing or a laptop. You will also find an interior pouch that's detachable. The pouch is to be used for storing your important essentials.
The Prices And Sizes
Measuring 12' x 16' x 6' (H x W x D) inches, priced at $790 USD, €595 EUR, £565 GBP.
Where To Shop Stella McCartney Stella Logo Bag?
1. MyTheresa – first stop is here because there are a lot of shades available…
2. Farfetch – shop at the boutiques around the world…
3. Matches Fashion – find more beautiful colors here…
4. SSENSE – want to see the Backpack version? Go here…
More Images And Colors
comnum(0) tbcount(0) tbcount(266)
Categories:
Other Brands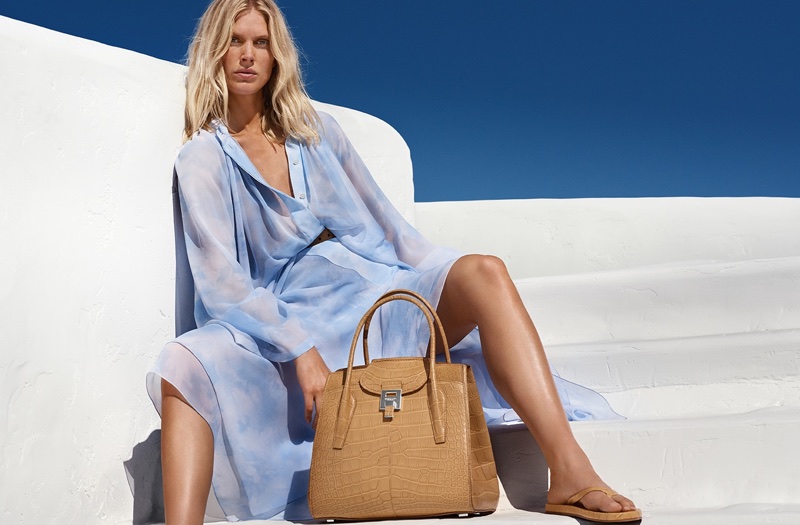 Iselin Steiro stars in Michael Kors' spring-summer 2018 campaign
Michael Kors taps Iselin Steiro as the face of his spring-summer 2018 campaign. The Norwegian model makes a perfectly relaxed vision for the sun-soaked images.The new season channels bohemian vibes in advertisements captured by Mario Testino. From airy dresses to crisp shirting and large bags, Iselin stuns in each shot. "This season is all about barefoot glamour. I wanted the clothes to be able to span climates and continents—it's the ultimate getaway wardrobe," Kors says about the new season.
Related: Andreea Diaconu Goes Into the Blue for Michael Michael Kors' Spring 2018 Campaign
MICHAEL KORS SPRING/SUMMER 2018 CAMPAIGN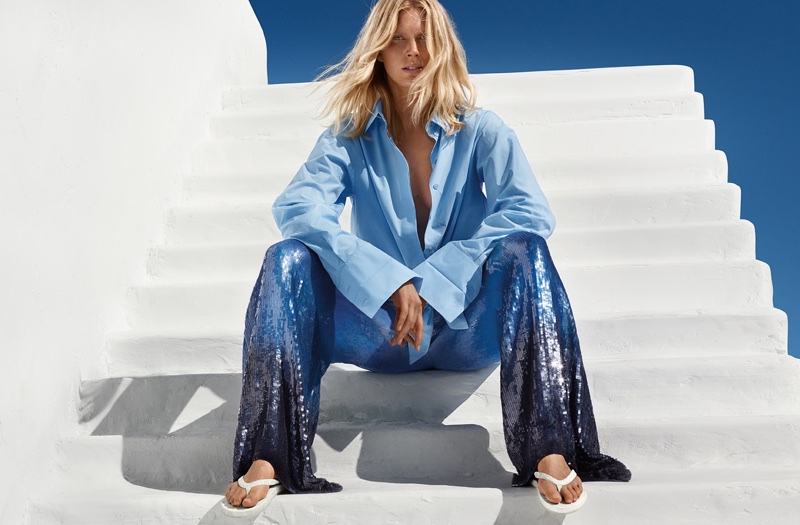 An image from Michael Kors' spring 2018 advertising campaign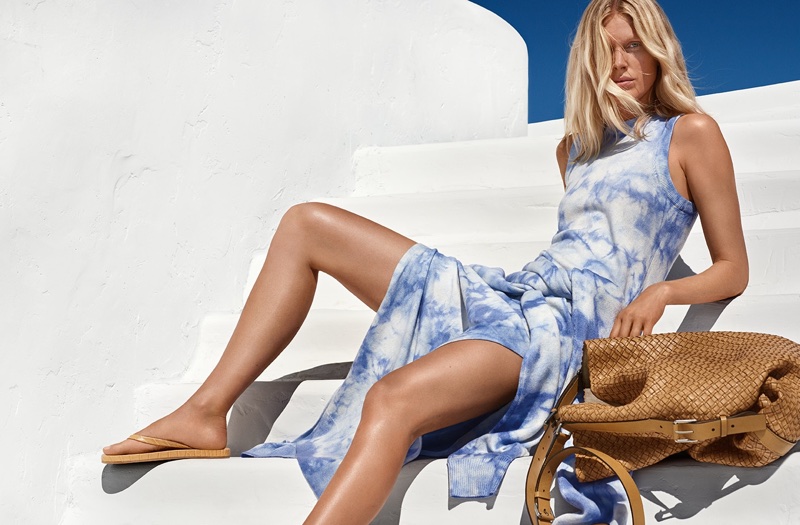 Wearing a blue dress, Iselin Steiro fronts Michael Kors' spring-summer 2018 campaign
comnum(0) tbcount(0) tbcount(269)
Categories:
Other Brands
Many are the time we wonder how celebrities manage to have such perfect cheekbones and if we could ever have such perfection. In most cases, your battle is with getting the makeup correctly not knowing that things can be simple if we only pay attention to the type and amount of shades we apply. Makeup on the cheeks can help accentuate them and give you a more defined look.
Some women have high cheekbones that have a naturally defined look while others have to create the illusion of a high cheekbone using makeup. The market is awash with tons of different cosmetics that can help us achieve that desired look. However, such perfection may take a bit of work that most women expect, which is why we have come up with this step-by-step tutorial to help you get it right.
1. KNOW YOUR SKIN
Your skin type and tone are unique to just you hence the importance of understanding your skin type; it is the start of knowing what best suits your skin. If you know this, then you are in a better position to choose and use the right beauty products. For instance, a cream blush-on is an excellent choice if you have dry skin. It will help to moisturize your skin. Conversely, powder blush-on is what to use if you have oily skin.
2. ALWAYS MOISTURIZE
Always ensure your skin stays moisturized. Apply enough moisturizer before you do any makeup especially if you have dry skin. You do not want to have makeup on and still have a face that looks flaky. Moreover, you can a face and cheekbones that look glossy, and a generous amount of moisturizer will help in that regard.
3. APPLY A BRONZER
A bronzer is necessary and should go right underneath the cheekbones, but many of us never know the exact spot. For this, just suck in your cheeks to expose the hollows of the cheeks. Alternatively, you can use your fingers to find the cheekbone. After you find that spot, stroke the brush diagonally towards the ears at a 45-degree angle. Keep that angle in mind as you apply the bronzer and use one that is a shade darker than your skin tone. Using the brush, start by drawing a line below the brow bone beginning from the ear moving downwards to the inside of your face stopping where your cheekbone ends.
4. BLEND IT PROPERLY
Make sure that, when applying the bronzer, you blend it in properly. You can do this using your fingertips or brush and ensure there are no visible stripes or sharp lines. Avoid spreading the bronzer into the center (apple) of the cheeks. Also, feel free darken the shade if you find it too light, but adding another layer of the bronzer.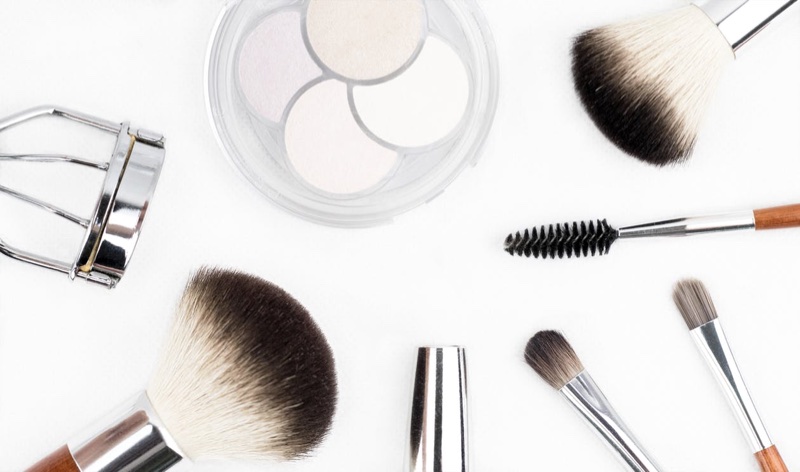 Photo: Pexels
5. CONTOUR YOUR FACE
When applying the bronzer, work it on the temples as you curve it down along the jawline to accentuate the bone structure and contour your face. If you want to go down another route – read on here – http://www.dore.sg/beautiful-cheeks-without-surgery/
6. APPLY BLUSH
Blush is essential to achieve perfectly defined cheekbones. It will help prevent your face from looking pale and yellow. But, the biggest challenge for most women when picking blush, is knowing the most suitable color shade. If you have fair skin, then go for something with a soft pink hue and a peach undertone. If you have an olive skin tone, then go for something with a bright shade and a blue undertone. For the women with a darker tone, pick more vivid colors such as hot pink. Stroke the brush in a sweeping motion when applying blush on the cheekbones.
7. APPLY THE CONCEALER
The concealer is important, and it should go below the contour. Apply it using a brush and ensure you blend it in properly. The aim of using the concealer is to define the cheekbones giving them a pronounced look.
8. APPLY THE HIGHLIGHTER
A highlighter will help to enhance the overall look. It should be slightly lighter than your skin. Therefore, a golden highlighter is the ideal choice is you have dark skin. Something with a light color is an excellent choice if you have a light skin tone. When applying the highlighter, sweep it lightly along the cheekbones using your brush giving more attention to the highest points of the cheeks. Make sure that you blend in the highlighter properly using a circular motion.
Take it easy with the highlighter, do not use too much or too light and to don't focus much of the motions towards the center of the face. Instead, sweep the highlighter gently towards the ears to give you well-defined cheekbones.
If you are using a liquid highlighter, put a few drops of the highlighter on a soft sponge and then dab the sponge on your skin. For a powder highlighter, use a small brush to apply it on your skin. Remember to apply the highlighter on the inner corners of the eyes and above the brow bone to light up your face.
9. FINAL ADJUSTMENT
Blend in the makeup properly so that you do not create sharp lines. If you use a liquid highlighter, apply a light layer of to achieve a translucent result. If you cannot blend in the makeup using your fingertips, then a soft brush will suffice. Use a circular motion as you blend in the makeup using the brush.
10. USE A SETTING SPRAY
We all want out makeup to stay on all day long. So, how can you achieve just that? Use a setting spray to help ensure that your makeup remains intact.
Hot Tip: Always ensure that you are in a setting with proper lighting when applying your makeup. It will help you achieve the right shading and highlight. Remember to use small amounts of bronzer layering it as you go; adding is the easier and better option that having to take it all off. Also, invest in long-lasting quality blushes that stay intact on your skin. Use cream blushes that match the color of your powder blush to avoid blotchiness.
Always remember that practice makes perfect. You may not get it right the first time, but keep trying and do this with a friend. Also, blend the makeup properly.
comnum(0) tbcount(0) tbcount(261)
Categories:
Other Brands
The Chanel CC Filigree Vanity Case Bag has excited for some time, but the availability remained seasonal. We do not clearly understand why because fashion-obsessed all around the world adores this handbag with all their hearts. But today, the CC Filigree Vanity Case Bag has not only returned, but the line has also been expanded. So meet the Chanel CC Filigree Long Wallet as well as the CC Filigree Small Flap Wallet and the CC Filigree Zip Wallet from the Spring Summer 2018 Collection Act 1.
The Design
So how do you instantly recognize the CC Filigree Wallet? Well, just take a look at the beautiful leather CC logo on the front. This CC logo is reinforced with gold studs on all the four edges and if you zoom-in, you can read the tiny CHANEL lettering. The CC logo is oversized but not screaming. It melts together with the whole design just like little snowflakes between the snows. Stunning isn't?
These CC Filigree Wallets are made from grained calfskin, which is superb leather with low maintenance. The body is completely diamond quilted, just like on the classics. Each piece resembles to the first-version of the Filigree Vanity Case. But there is only one question left; which wallet do you prefer? Or is it too difficult to pick?
The Interior
Each wallet is crafted with multiple compartments, card slots, patch pockets to help you organize your necessities like paper money and coins. To get an inside look of these wallets, please go to the Classic Wallets page. You see, while the exterior is different, each wallet mirrors the classic design. The CC Filigree Long Wallet mirrors the Classic Long Wallet, the CC Filigree Small Flap Wallet mirrors the Classic Small Wallet and the CC Filigree Small Zip Wallet mirrors the Classic Zip Around Wallet.
The Prices And Sizes
Chanel CC Filigree Long Wallet
Style code: A84448
Size: 4.1' x 7.6' x 1.2' inches
Prices: $1050 USD, €980 EUR, £880 GBP, $1650 SGD, $8600 HKD, $1540 AUD, ¥135000 JPY
Chanel CC Filigree Small Flap Wallet
Style code: A84447
Size: 4.1' x 5.9' x 1.4' inches
Prices: $950 USD, $1225 CAD, €880 EUR, £790 GBP, $1480 SGD, $7700 HKD, $1390 AUD, 4600 MYR.
Chanel Small CC Filigree Zip Around Wallet
Style code: A84446
Size: 3.5' x 6.1' x 0.8' inches
Prices: $750 USD, $975 CAD, €690 EUR, £620 GBP, $1160 SGD, $6100 HKD, $1090 AUD, ¥95040 JPY, 3620 MYR.
More Images And Colors
comnum(0) tbcount(0) tbcount(263)
Categories:
Other Brands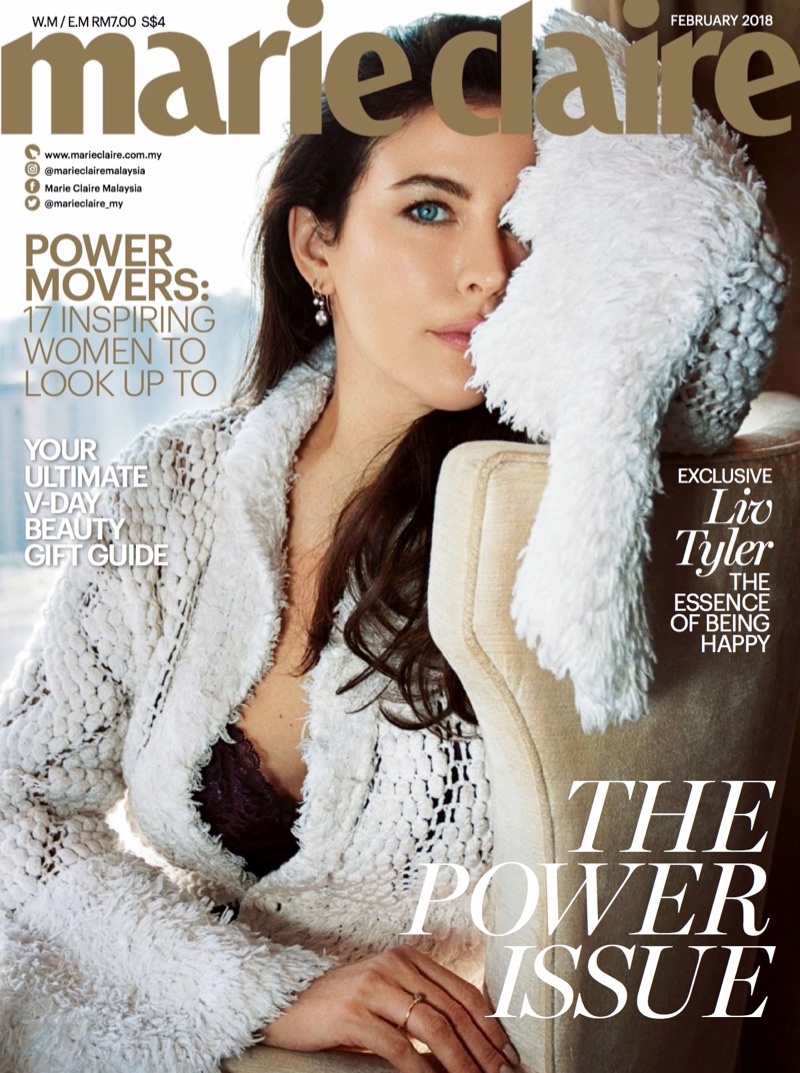 Liv Tyler on Marie Claire Malaysia February 2018 Cover
Actress Liv Tyler turns up the glam factor on the February 2018 cover of Marie Claire Malaysia. Captured by Élio Nogueira, the brunette stunner poses in a Triumph bra with a knit coverup. Inside the magazine, Liv wears ladylike looks from the spring collections. Stylist Azza Arif dresses the 40-year-old wearing the designs of Dior, Bally and more.
Related: Liv Tyler Wears Simply Elegant Looks for PORTER Magazine
COVER SHOOT: LIV TYLER FOR MARIE CLAIRE MALAYSIA FEBRUARY 2018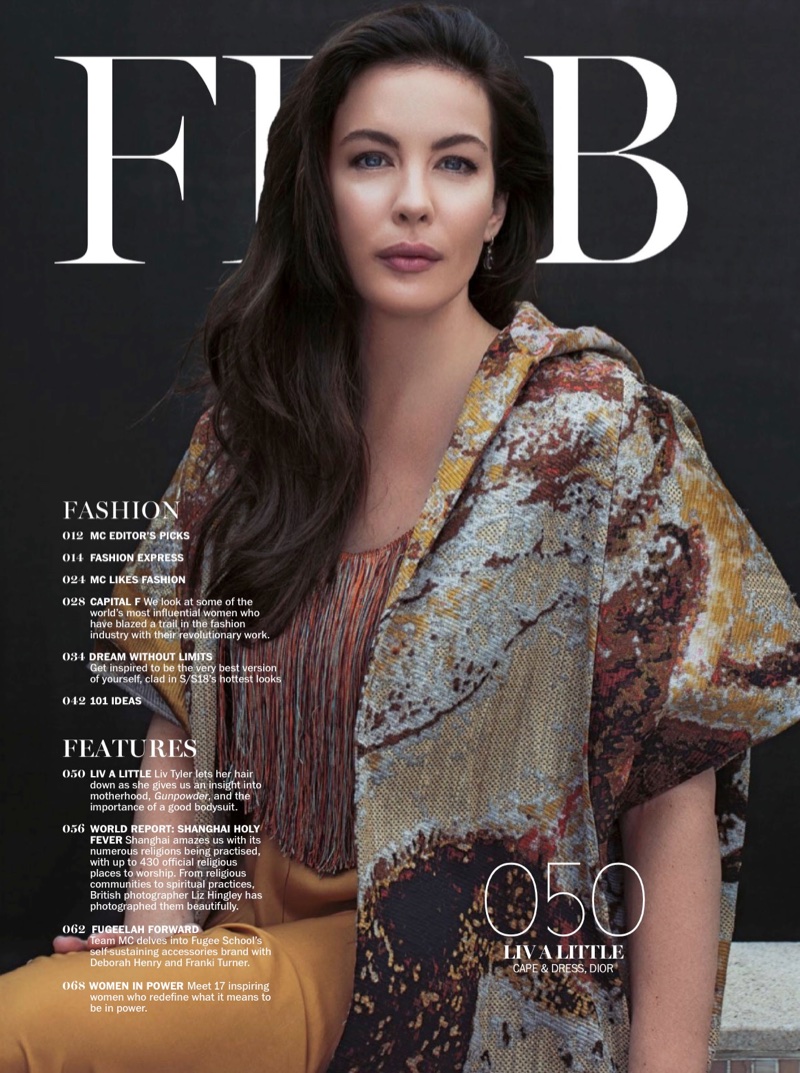 Actress Liv Tyler poses in Dior cape and dress
LIV TYLER ON BEING THE FACE OF TRIUMPH LINGERIE
In her interview, Liv talks about becoming the global face of Triumph Lingerie.
"Crazy right? Especially after three children and nearly turning 40, I am doing my first lingerie campaign!" says Liv. "I love lingerie so much, and collecting different pieces. As a woman, every article of clothing needs a different undergarment: whether you are wearing a white dress, or black pants, you always need something different."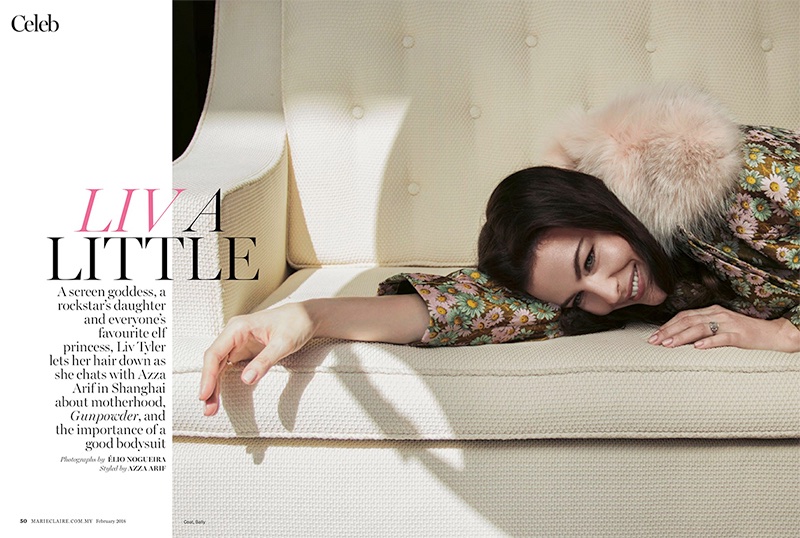 Flashing a smile, Liv Tyler wears a floral embroidered coat from Bally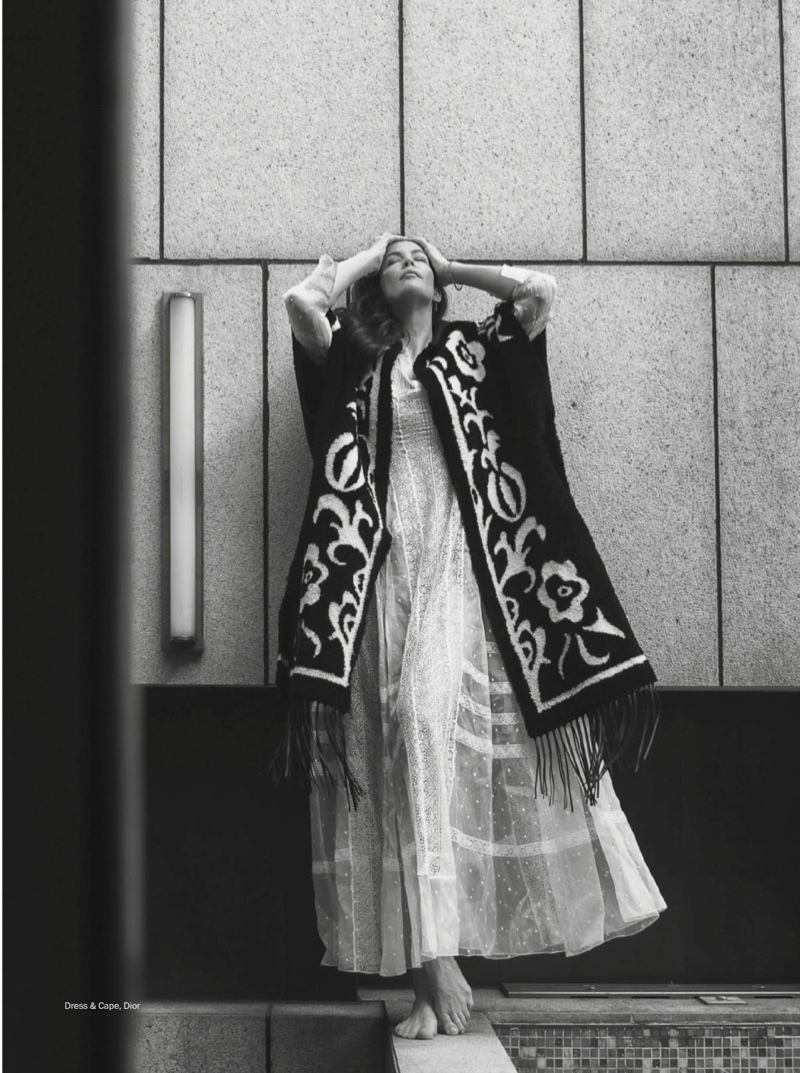 Photographed in black and white, Liv Tyler wears Dior cape and dress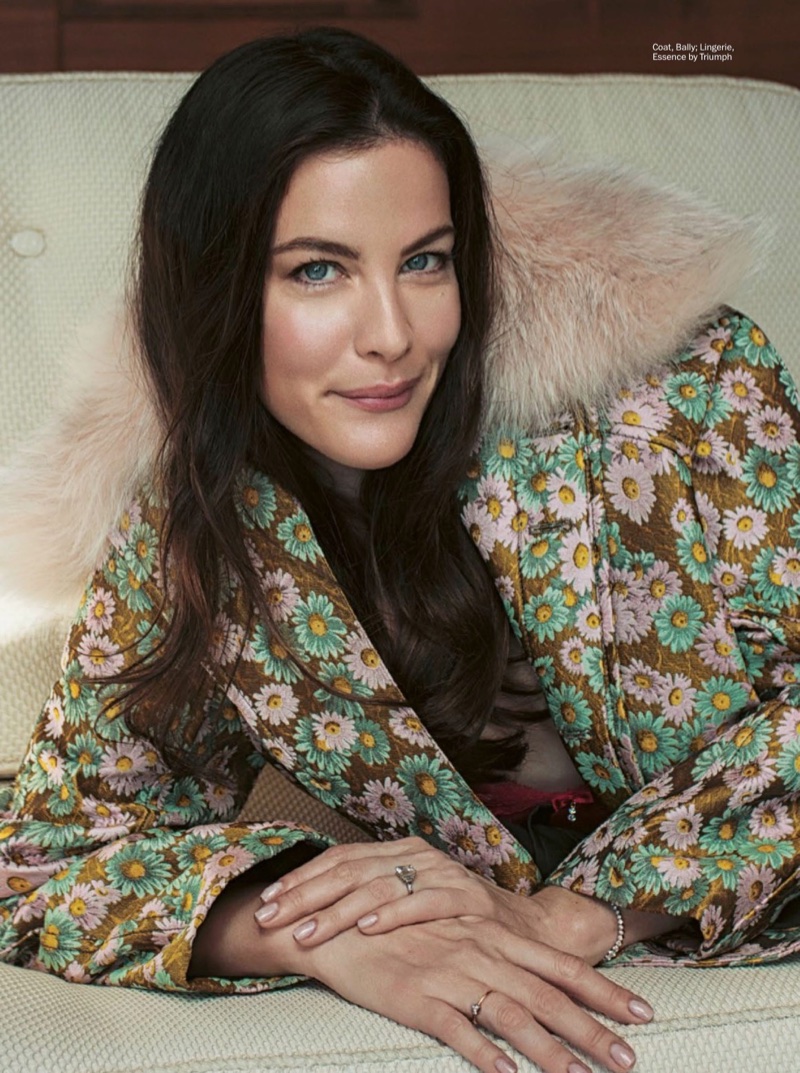 Liv Tyler wears Bally jacket with Triumph bra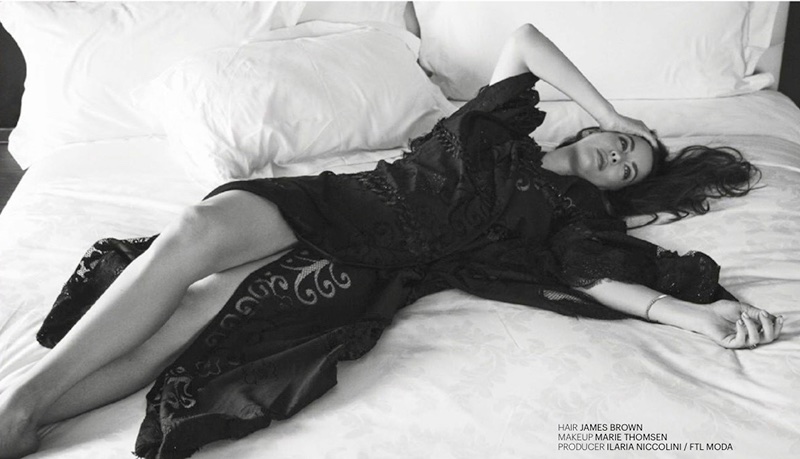 Posing in bed, Liv Tyler wears a robe
comnum(0) tbcount(0) tbcount(226)
Categories:
Other Brands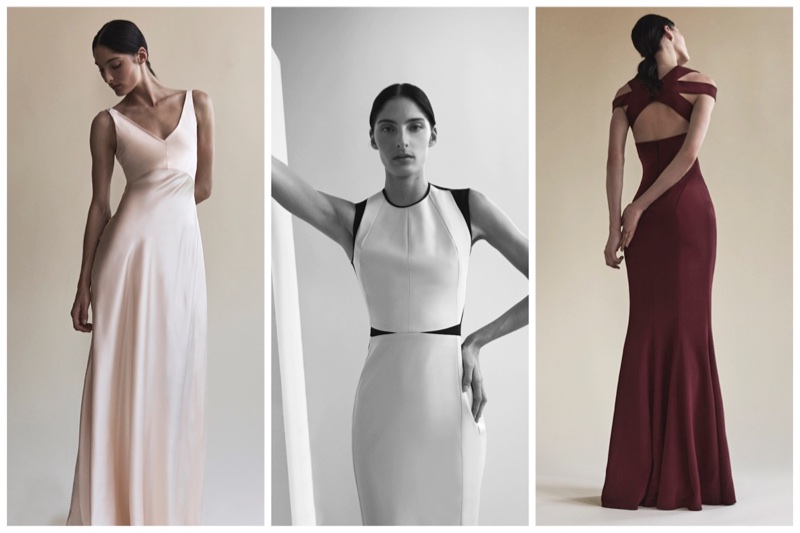 Discover Narciso Rodriguez's 20th anniversary collection
Celebrating his 20th anniversary this year, designer Narciso Rodriguez teams up with fashion retailer Barneys for a capsule collection. The range focuses on some of his greatest hits including elegant gowns, slinky slip dresses and sheath styles. In a color palette of black, white, burgundy and plum, these designs will look great at any cocktail party or major event. Discover some of our favorites from the Narciso Rodriguez collection below, and shop more at Barneys.com.
Related: Discover Christian Louboutin's Opulent Resort 2018 Shoes
NARCISO RODRIGUEZ 20TH ANNIVERSARY COLLECTION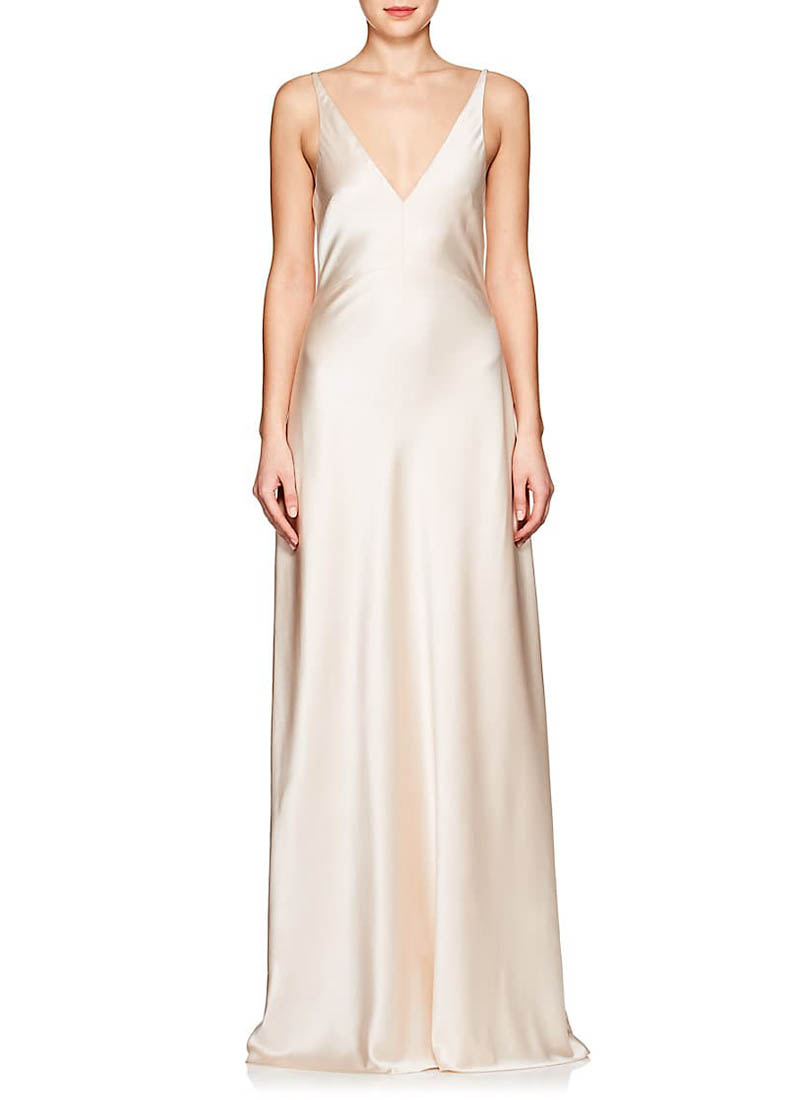 Narciso Rodriguez Silk Charmeuse Gown $2,995
Be a showstopper in a silk charmeuse gown with a 30's inspired silhouette featuring a v-neckline.
"Most of the pieces selected for the Barneys capsule collection were pieces that evolved from season to season until they became signature looks and then iconic pieces," Rodriguez says. "At the same time, I realized these were pieces that had received a great reception when they were initially introduced."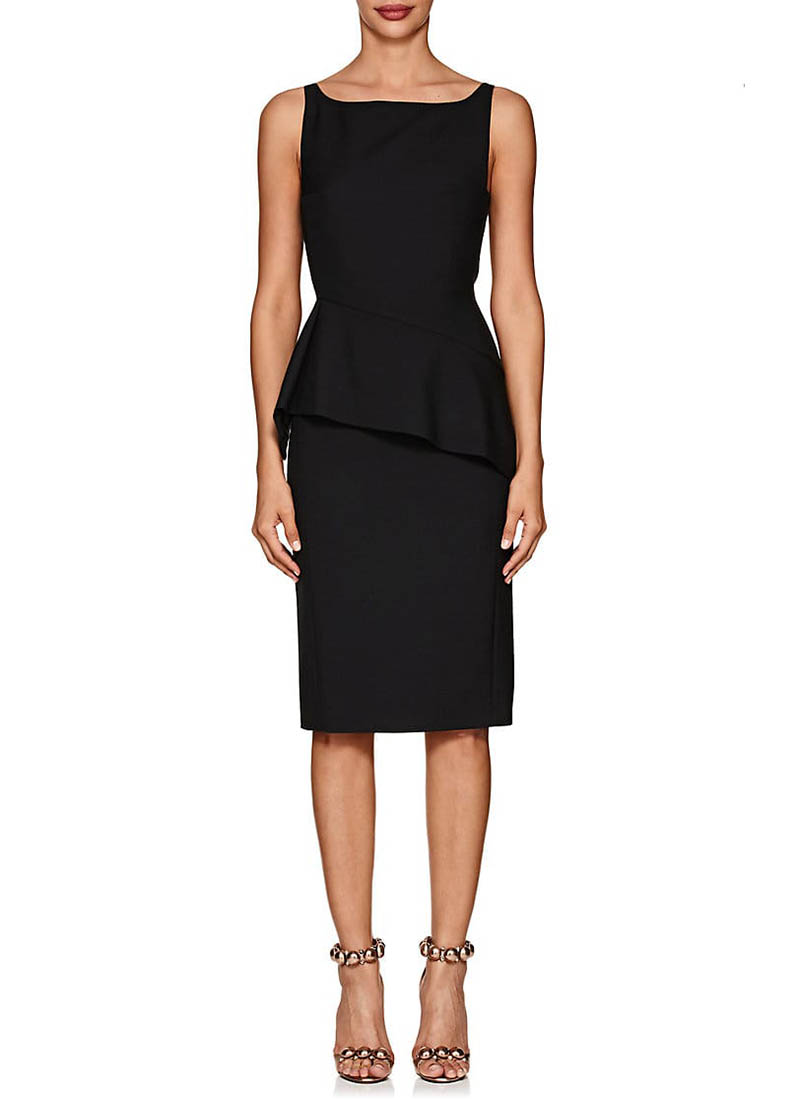 Narciso Rodriguez Wool Fitted Peplum Dress $2,095
Made from black wool, this bodycon dress comes with an asymmetrical peplum detail.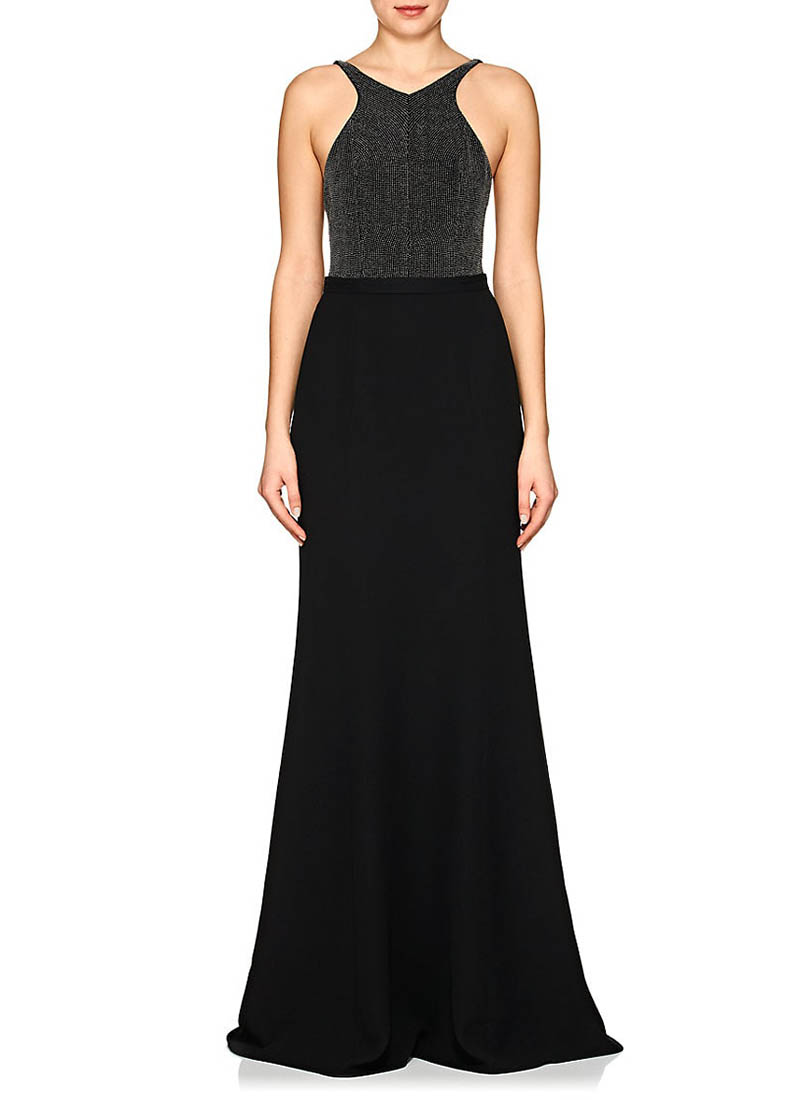 Narciso Rodriguez Studded Silk Crepe Gown $3,995
Channel timeless glamour in a sophisticated gown made with a silvertone, studded bodice.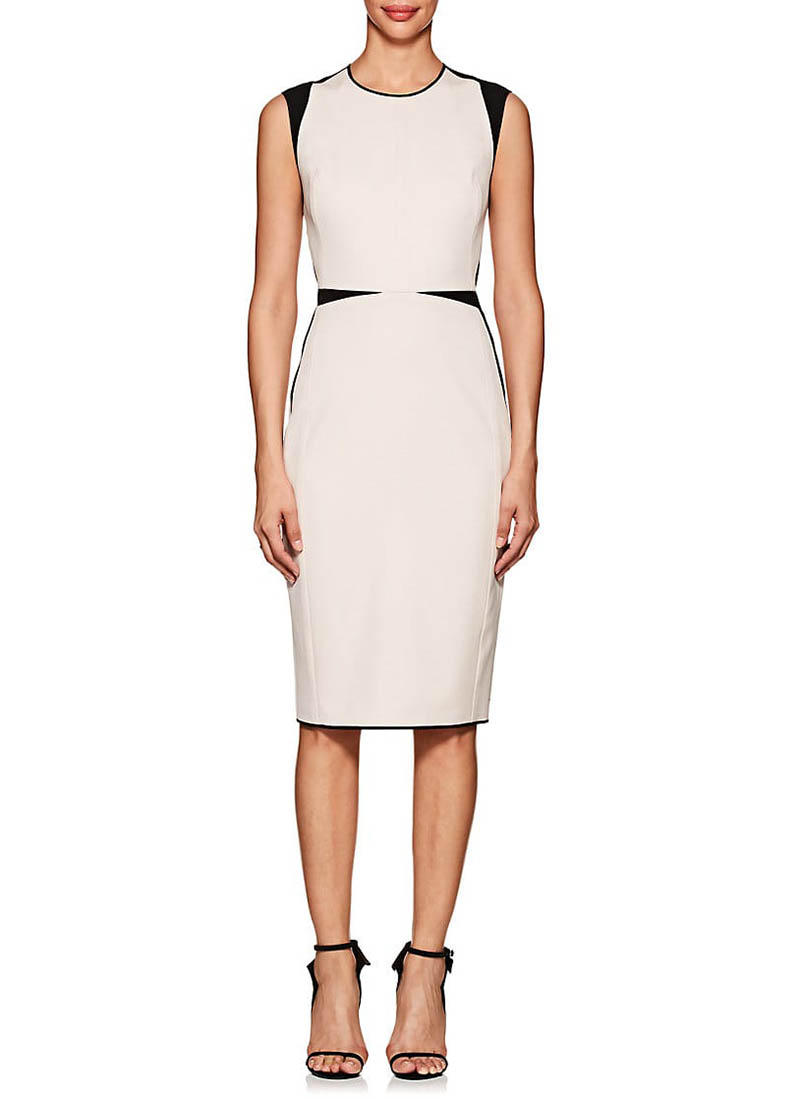 Narciso Rodriguez Colorblocked Wool Twill Sheath Dress $1,995
This sheath dress comes in a peach and black color combination with a high neckline.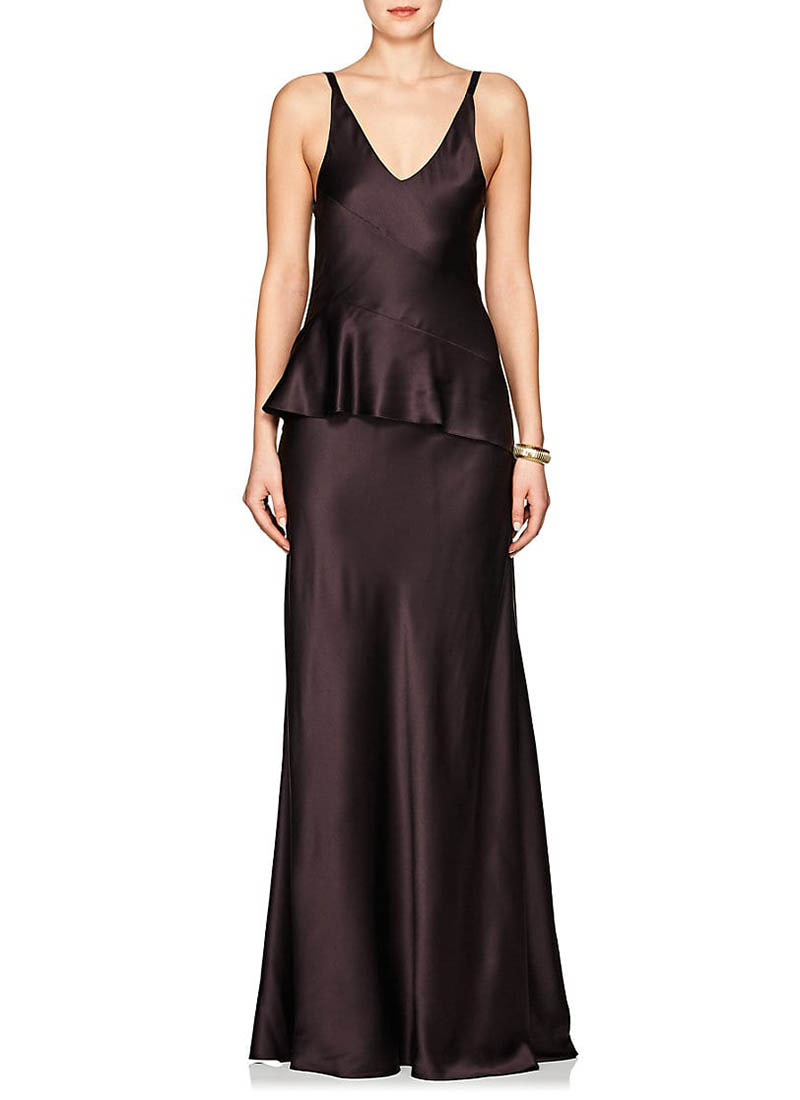 Narciso Rodriguez Silk Charmeuse Peplum Gown $2,995
A slinky purple dress drapes on the bias for a perfectly sleek look.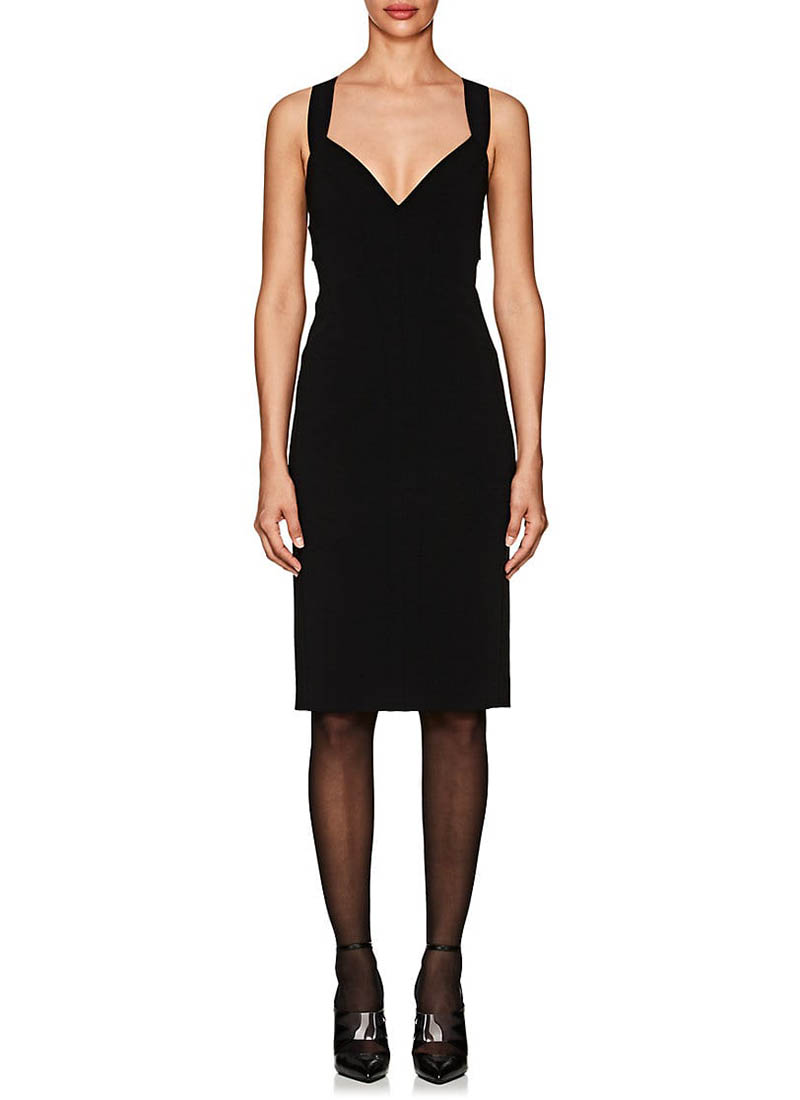 Narciso Rodriguez Compact-Knit Fitted Dress $2,395
The little black dress comes with crisscross straps which create a chic backing.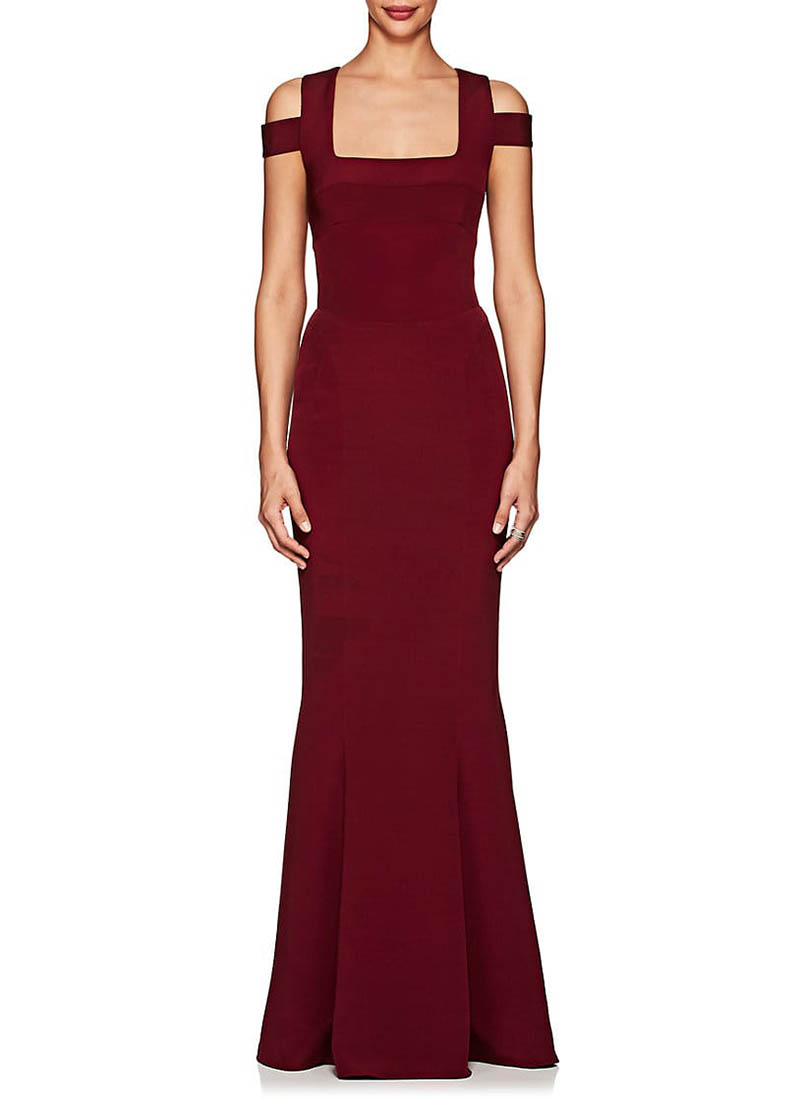 Narciso Rodriguez Stretch-Silk Crepe Open-Back Gown $3,495
Made in a rich red, this gown comes with an off-the-shoulder silhouette and open back.
Categories

New Posts

Hot Posts

Tag Cloud